The Magpie III barcode scanner pretends it is another keyboard eliminating the need for extra boxes or software, everything is built into the scanner itself. No extra power supply is required unlike most rechargeable, wireless barcode scanners.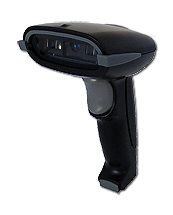 The Magpie III is easy to set up, simply plug in and start scanning, can read all common barcode types, ie EAN13, UPC, Code39, Code 128 and many others including specialist codes such as Telepen and Databar 14.

The Result Of Over 18 Years Experience In Barcoding

Low power consumption, 1 year RTB guarantee.

Advanced Imaging Scanning Head, Reads Barcodes Large And Small

Allows you to read courier barcodes and other longer codes not just codes on retail items, like other low cost scanners.

Works with ALL computers including PC, Macintosh, Laptops, Terminals. No adaptors are required at extra cost to use on USB or laptop computers.
Fully Cross Platform Compliant Mac - PC - Linux.

Robust, Quality built units, with large ergonomic trigger. Fully CE and FCC approved.
As you are buying direct from the manufacturer you don't pay any middlemen and receive fully informed free support.
Comes As A Complete Kit Ready To Use

Comes complete, usb charging cable and wireless base station are included in the box. No power supply is required.

Free Software Included

Also includes an enabler code for the QuickTrack Start, starter Item, Asset and Loan tracking software (Downloadable from our website).
Works on Mac OSX.
Works on PC Windows XP, Vista, Windows 7.